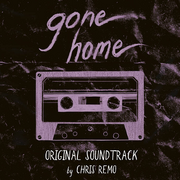 The Gone Home Original Soundtrack, also known as GH:OST, is the original score composed by Chris Remo for Gone Home. It was first released on October 22, 2013 on Chris Remo's bandcamp site,[1] and since July 14, 2014 it has been available to purchase as a digital download through Steam.[2] It was also included as part of the special edition of the game.[3]
In September 2018, it was announced that a vinyl version of the soundtrack would be released, and would be distributed by game merchandise company iam8bit.[4] It is scheduled to ship Q1 2019.[5]
The original soundtrack does not include the riot grrrl music located throughout the game.
History and sound
Edit
Steve Gaynor first asked Remo to compose the music for Gone Home, and Remo has said that he "was really excited about it, but there were almost no parameters".[6] He used vintage piano sounds, such as Wurlitzers and Fender Rhodes, in order to create the distinctive sounds needed for the time and place that the game was set in.[6] However, it also needed to blend into the background; one note that Gaynor kept bringing up was for there to be "less melody" and for Remo to "pull it back".[7] It resulted in a very subdued melody that underscored every audio diary, and worked to contrast the sound with the secondary riot grrrl soundtrack.[6]
Track list
Edit
There are 18 tracks on the Gone Home original soundtrack, all of which were composed by Chris Remo.
"See You Soon" - 0:59
"At The New House / First Day Of School" - 1:22
"Hanging Out With Girls / Dealing With Roots" - 0:48
"Default Friends / Ship Date" - 1:25
"Stick With The Group" - 0:54
"The House, Part 1 (Original)" - 2:55
"The Nunnery" - 0:57
"A Very Long Phase / Getting Lonnie" - 1:16
"Daniel" - 0:51
"Just Gone" - 0:54
"The House, Part 2 (Original)" - 2:54
"Dedication" - 1:04
"Life Moves On" - 1:04
"In The Attic" - 0:54
"I Said Yes" - 1:23
"I'll See You Again" - 0:53
"The House, Part 1 (In-Game)" - 5:49
"The House, Part 2 (In-Game)" - 5:49
References
Edit