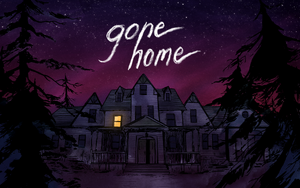 Gone Home is walking simulator developed by The Fullbright Company and first released on PC, Mac, and Linux in August 2013. It was ported to Xbox and PlayStation in January 2016, and released for Nintendo Switch in September 2018 on the Nintendo eShop. In June 2016, Gone Home was one of the games offered for free as part of Sony's PlayStation Plus Instant Games Collection. It is also available free on Humble Bundle's Trove for those who subscribe to Humble Monthly.
June 7, 1995. 1:15 AM.
You arrive home after a year abroad. You expect your family to greet you, but the house is empty. Something's not right. Where is everyone? And what's happened here?
Gone Home is an interactive exploration simulator. Interrogate every detail of a seemingly normal house to discover the story of the people who live there. Open any drawer and door. Pick up objects and examine them to discover clues. Uncover the events of one family's lives by investigating what they've left behind.
Go home again.[1]
Gameplay
Edit
Kaitlin Greenbriar returns home after a year studying abroad in Europe. It is storming outside, and as she begins exploring the unfamiliar house – an inheritance to her father from her recently-deceased great uncle – she begins to piece together her family's life of the past year.
As she begins investigating, she comes across journal articles written by her sister, Sam, which provide an intimate look into her sibling's life and how she has dealt with moving to a new school and making new friends in her senior year.
The game begins with Katie leaving a message for her parents, telling them of her return date and time, and that they need not worry about picking her up from the airport. Once the message concludes, the game fades in to Katie standing in the front door with her suitcase. After looking around for the key, she is able to get inside the first floor.
Additional music:

Heavens to Betsy
Bratmobile
The Youngins
References
Edit
↑ Gone Home: A Story Exploration Game. Retrieved on October 4, 2018.
↑ Steve Gaynor. Retrieved on October 4, 2018.
↑ 3.0 3.1 3.2 Gone Home cast and crew. Retrieved on October 3, 2018.
↑ 4.0 4.1 4.2 4.3 Qt3 Games Podcast: Gone Homecast with developer Steve Gaynor (August 21, 2013). Retrieved on October 12, 2018.