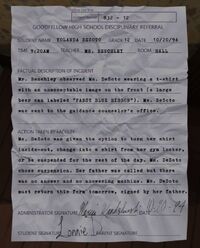 A crumpled note is found in the trash can in Sam's room and is the remains of a Goodfellow High School disciplinary referral slip. The note shows Lonnie's rebellious nature and her disrespect for her school teachers, which would eventually influence Sam. The fact that it is crumpled and found in Sam's room also indicates that Lonnie brought it over to show Sam and threw it away rather than give it to her parents.
GOODFELLOW HIGH SCHOOL DISCIPLINARY REFERRAL
STUDENT NAME: YOLANDA DESOTO GRADE: 12 DATE: 10/20/94
TIME: 9:20 AM TEACHER: MR. BENCHLEY ROOM: HALL
FACTUAL DESCRIPTION OF INCIDENT
Mr. Benchley observed Ms. DeSoto wearing a t-shirt with an unacceptable image on the front (a large beer can labeled "PABST BLUE RIBBON"). Ms. DeSoto was sent to the guidance counselor's office.
ACTION TAKEN BY FACULTY
Ms. DeSoto was given the option to turn her shirt inside out, change into a shirt from her gym locker, or be suspended for the rest of the day. Ms. DeSoto chose suspension. Her father was called but there was no answer and no answering machine. Ms. DeSoto must return with this form tomorrow, signed by her father.