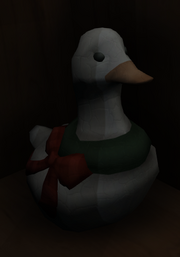 Christmas Duck is an avian-styled holiday decoration that is stored in a cabinet on the front porch. It is used to hide the spare key to the house; Katie recognises it after picking it up, with the duck becoming the "Good ol' Christmas Duck."
A copy of the front door key is hidden under the duck.
The change to the interaction text after it is picked up – "Good ol' Christmas Duck" – suggests that hiding a key under the same duck is a constant that Katie is familiar with, and was likely used at their previous house.
The duck cost $5.99.
There is a hidden achievement in the game. To unlock it, Katie must carry the duck all the way up to the attic. There is a nest hidden to the left of the stairs once she ascends, where the duck can be placed.
The Christmas Duck was also featured in Fullbright's second game, Tacoma. It can be found in a storage area, and there is a minor interaction available to the player.
Christmas Duck also makes an appearance in Firewatch. It is located out in the middle of Jonesy Lake.
Community content is available under
CC-BY-SA
unless otherwise noted.